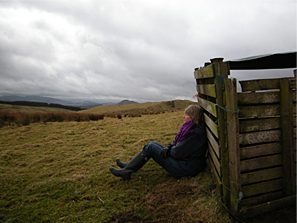 Every time Anne Gummerson drives through the streets of Baltimore she passes houses and buildings she regards as friends. Photographing them has given her an appreciation of their details and a respect for the architecture. For more than thirty years she has been photographing residences and commercial sites for the architects, designers, builders and art directors who keep her busy doing the work she so much enjoys.
Anne studied French Literature and Art History at Goucher (BA) and later earned a Masters in Photography from the Maryland Institute College of Art. She and her family are long time residents of Fell's Point. On a personal level she also enjoys traveling and riding her horse, Solo.
Anne's work has been widely published in books and magazines. Her work has appeared in House Beautiful, Elle Décor, HOME, Southern Accents, Veranda , Avalon and Luxe and she has often been published in Chesapeake Home, Style, Baltimore Magazine, Home and Design, Urbanite, and both Baltimore Sun and Washington Post Magazines. Multiple design Books by Taunton Press and Creative Homeowner Press include her work as well.
It's all about the light…lovely natural light. I like the way it defines shapes and spaces.
When I do add light, I hope no one can tell.